DESCRIPTION & CHARACTERISTICS:
Designed for MIL-S-901D shipboard shock.
Can be deck mounted or shear bulkhead mounted.
Will deflect over 3.75" in all directions.
Attenuates most severe 901D shock to below 10G at rated load.
Isolation for a wide range of foundation stiffnesses, including 14 Hz decks.
Natural frequency 7-8 Hz at rated load in compression.
Materials:

Neoprene
Steel structural elements–
Other materials available on special order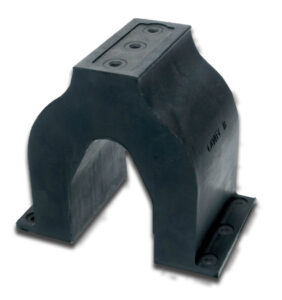 SUPER VHC MOUNT ADVANTAGES:
Shock attenuation, vibration isolation and structure borne noise attenuation –
all in one mount.
Higher deflection capability than standard VHC mounts.
Multifunctional design for use in "bulkhead only" installations, as well as base and bulkhead mounting.
Installation geometry allows for easy upgrades as payload mass changes.
Common to mounting systems in use today.