Versatile All-attitude isolators for vibration and shock protection.
Barry 5200 Series Mounts are for applications where protection is required from shock, vibration or noise. The fail-safe, low profile construction of 5200 Series Isolators are ideal for use where space is at a minimum.
Downloads:
5200 Mount | Performance: 5200, 5200HT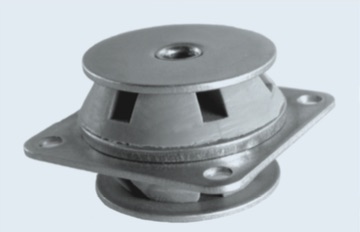 FEATURES
All-attitude mounting with rugged, fail-safe construction
Axial to radial stiffness of 1:0.6
Low profile mounts
Wide range of load ratings for both stationary and mobile environments
BENEFITS
Isolator provides effective vibration isolation in any attitude
Fail-safe design captivates the mounted equipment even if the elastomeric elements should be destroyed
LOAD RANGE
4 load ratings to 50 lbs. per mount
APPLICATIONS
Airborne electronics and racking
Ground transportation applications
Severe random vibration environments
Electric motors
ENVIRONMENTAL DATA
Hi-Damp Silicone Version meets shock & vibration requirements of MIL-E-5400 with an operating temperature range of -67°F to +300°F (-55°C to +150°C).
Neoprene version is available for use where temperature extremes are not encountered, but resistance to oil or ozone is required. Operational temperature range is -20°F to +180°F (-30°C to +83°C).
NATURAL FREQUENCY
15 – 40 Hertz
TRANSMISSIBILITY AT RESONANCE
4.0 Max. (Hi-Damp Silicone)
10.0 Max. (Neoprene)
RESILIENT ELEMENT
Hi-Damp Silicone, Neoprene or Natural Rubber
STANDARD MATERIALS
Zinc plated steel
WEIGHT
5200 = 2.5 oz.
5200H = 3.5 oz.