Low-frequency, highly damped mounts for high level shock and vibration isolation.
Barry HTTA-Series Mounts are low frequency isolators with a large deflection capacity to provide both Vibration and shock protection. They are designed to meet the requirements of MIL-STD-810C for mounting electronic equipment in helicopter environments.
Downloads:
HTTA Mount | Dimensions and Performance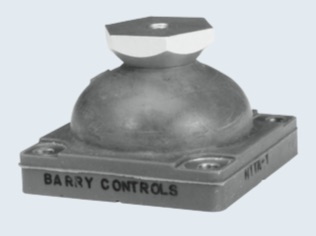 FEATURES
Low natural frequency (10 – 13 Hertz)
Axial to radial stiffness is 1:1.4
Aluminum construction
BENEFITS
Will not degrade in performance when subjected to a 15g, 11 millisecond half-sine shock input
Will not fail under a 30g, 11 millisecond half-sine shock input
Lightweight
Fungus and ozone resistant
LOAD RANGE
3 load ratings from 5 – 20 lbs. per mount
APPLICATIONS
SMounting equipment in helicopter environments (meets MIL-STD-810C requirements)
Other applications where a large deflection capacity is required
ENVIRONMENTAL DATA
Hi-Damp Silicone elastomer has an operating temperature range of -67°F to +300°F (-55°C to +150°C) and is fungus and ozone resistant.
| | |
| --- | --- |
| NATURAL FREQUENCY | 10 – 13 Hertz |
| TRANSMISSIBILITY AT RESONANCE | 4.0 Max. |
| RESILIENT ELEMENT | Hi-Damp Silicone |
| STANDARD MATERIALS | Aluminum (Grounding Strap Beryllium Copper) |
| WEIGHT | 4 oz. |