General purpose, all-attitude isolators for mounting aircraft, shipboard or vehicular equipment.
Barry T-Mounts are general purpose isolators for mounting aircraft, shipboard or vehicular equipment in any attitude. They are ideally suited for applications requiring high frequency vibration isolation with low resonant amplification.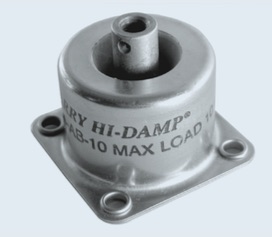 Contact us for special pricing on bulk orders over 25.
FEATURES
All attitude isolators
Meets crash safety requirements of MIL-E-5400 (30g 11 millisecond half-sine pulse shock)
Axial to radial stiffness of 1:1
Isolates under sustained loadings of up to 5g's
BENEFITS
Provides efficient vibration isolation at frequencies above 40 hertz
Increased equipment reliability and extended component life
LOAD RANGE
T22 = 4 ratings to 5 lbs. per mount
T44 = 3 ratings to 20 lbs. per mount
T64 = 3 ratings to 80 lbs. per mount
T94 = 2 ratings to 150 lbs. per mount
APPLICATIONS
AShipboard electronics
Missile electronics
Racking systems
Aircraft & mobile applications
Avionics & electronics
ENVIRONMENTAL DATA
Hi-Damp Silicone exceeds the temperature requirements of MIL-E-5400 (-67°F to +300°F or -55°C to +150°C) operational and (-100°F to +300°F or -75°C to +150°C) storage.
Meets MIL-E-5400 requirements for resistance to ozone, humidity, salt spray and fungus.
Meets MIL-S-901 lightweight Grade B Navy high impact shock test requirements.
NATURAL FREQUENCY
15 – 40 Hertz
TRANSMISSIBILITY AT RESONANCE
4.0 Max.
RESILIENT ELEMENT
Hi-Damp Silicone
STANDARD MATERIALS
Varies with model
WEIGHT
T22 = 1.1 oz.
T44= 2.8 oz.
T64 = 5.3 oz.
T94 = 14.2 oz.
SHOCK MOUNT ISOLATION BASE PLATE FOR THE IDAN™ SYSTEM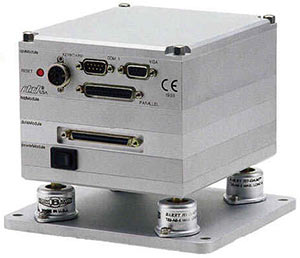 The IDAN™ shock and vibration isolation base plate is ideal for mounting PC/104EZ Systems in aircraft, shipboard or vehicular applications. The system can be installed in any attitude yielding superior high frequency vibration isolation along with low resonant amplification increasing equipment reliability and extending component life. The IDAN-Base-SM includes a flanged base plate for mounting,4 shock mount isolators, and a bottom plate which can be assembled in any standard IDAN™ system.
FEATURES
All attitude isolators
Meets crash safety requirements of MIL-E-5400 (30g 11millisecond half-sine pulse shock)
Meets M L-E-5400 requirements for resistance to ozone, humidity, salt spray, and fungus.
Meets M L-S-901lightweight Grade B Navy high impact shock test requirements.
Isolates under sustained loadings of up to 5 g's
Provides efficient vibration isolation at frequencies above 40 hertz
Natural Frequency: 15 – 40 Hertz
Transmissibility at Resonance: 4.0 Max
Resilient Element Hi-Damp Silicone
Operating temperature range -55°C to 150°C