Mid-frequency, high deflection mounts for protection from severe vibration and shock.
The TT-A mount is a mid frequency isolator which combines a low profile and large deflection capability in order to provide both shock and vibration protection. The TT-A is ideal for applications where high amplitude vibration inputs are expected or where large shock deflections are needed.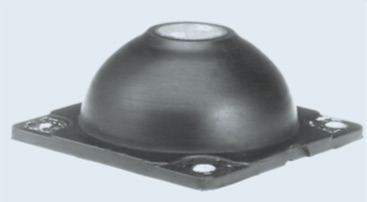 Contact us for special pricing on bulk orders over 25.
FEATURES
Available in Silicone or Neoprene
Axial to radial stiffness of 1:1
Mid frequency isolation
Aluminum construction
BENEFITS
Attenuates a 15g, 11 millisecond half-sine shock to 6g's
Survives a 30g, 11 millisecond half-sine crash safety shock
Lightweight & durable
LOAD RANGE
3 load ratings to 15 lbs. per mount
APPLICATIONS
Ruggedized disk drives
Electronics for rotary wing and propeller driven aircraft
Mobile ground equipment
Other applications where high amplitude, low frequency vibration is present
ENVIRONMENTAL DATA
Hi-Damp Silicone operating temperature range is -67°F to +300°F (-55°C to +150°C) and is resistant to fungus and ozone.
Neoprene operating temperature range is -20°F to +180°F (-30°C to +82°C) and is resistant to oil and ozone.
NATURAL FREQUENCY
12 – 20 Hertz
TRANSMISSIBILITY AT RESONANCE
10 Max.
RESILIENT ELEMENT
Neoprene
STANDARD MATERIALS
Aluminum
WEIGHT
ME-100 = 0.2 oz.
ME-500 = 0.5 oz.