High deflection shock and vibration isolators for medium-weight sensitive equipment.
Barry VHC-Series mounts are special purpose, mid-frequency isolators designed to protect sensitive equipment when high level shock and vibration inputs are expected. Typical applications include electronic equipment installed in mobile equipment subjected to off-road environments.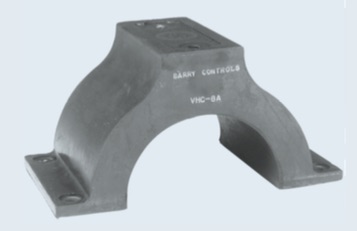 Contact us for special pricing on bulk orders over 25.
FEATURES
Buckling design
Steel construction
Compression to shear stiffness ratio 2:1
Designed to carry static loads in the axial direction, but can accommodate dynamic inputs in the radial direction
Attenuates 18″ freefall shock input to approximately 12g's
BENEFITS
Large deflection capacity provides superior shock attenuation
Can be used as stabilizers for tall equipment packages
Maximum loads apply when mount will be subjected to an 18″ freefall. Larger loads can be accommodated for less severe shock inputs.
LOAD RANGE
4 load ratings to 145 lbs. per mount
APPLICATIONS
Ground vehicle electronics
Shipboard equipment
Shipping containers
Equipment installed in transportable shelters
ENVIRONMENTAL DATA
Barry LT (low-temperature) Compound, which is ideal for military applications, operates between -67°F and +180°F (-55°C to +82°C) and is resistant to fungus and ozone.
Neoprene has an operating temperature range of -20°F to +180°F (-30°C to +180°C) and resists oil and ozone.
| | |
| --- | --- |
| NATURAL FREQUENCY | 12 – 20 Hertz |
| TRANSMISSIBILITY AT RESONANCE | 5.0 Max. (Barry LT Compound) 10.0 Max. (Neoprene) |
| RESILIENT ELEMENT | Barry LT Compound or Neoprene |
| STANDARD MATERIALS | Steel (Grounding Strap Beryllium Copper) |
| WEIGHT | 4 lbs. |