Versatile, low cost elastomeric isolators protect against shock & vibration and reduce structure-borne noise in vehicular and industrial applications.
Barry-Bond Mounts are designed for multidirectional vibration isolation, shock attenuation and noise reduction due to structure borne vibrations. These one-piece, fail-safe mounts are easy to install and provide consistent performance.
Downloads:
Barry-Bond | Load Ratings | Dimensions | Performance: BC1120, BC1121, BC1122, BC1123, BC1124, BC1125 | Snubbing Washers | Installation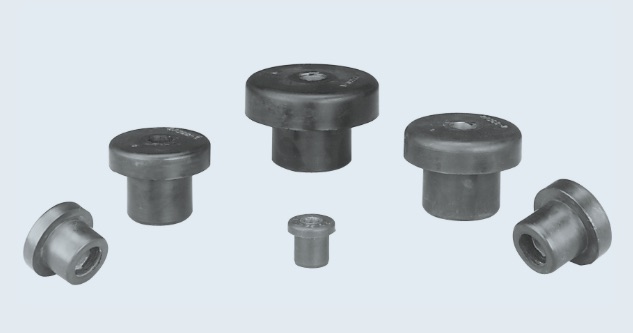 Contact us for special pricing on bulk orders over 25.
FEATURES
One piece bonded construction
Compact size
Rebound feature formed during installation
BENEFITS
Easy, low cost installation
Cushioned snubbing in all directions
Consistent performance
Multi-directional vibration isolation
Noise attenuation
Fail safe when used with recommended snubbing washers
LOAD RANGE
Six sizes with axial load ranges from 75 to 2,100 lbs. per mount
APPLICATIONS
Engines
Operator compartments (cabs)
Radiators
Pumps
Compressors
Machinery
ENVIRONMENTAL DATA
Natural Rubber elastomer has an operating temperature range of -40°C to +85°C.
RESILIENT ELEMENT
Natural rubber
STANDARD MATERIALS
Steel
WEIGHT
BC-1120-1 & 3
BC-1121-2 & 4
BC-1122-2 & 4
BC-1123-2 & 5
BC-1124-2 & 5
BC-1125-2 & 4
.02 lbs.
.10 lbs.
.16 lbs.
.36 lbs.
.56 lbs.
.86 lbs.