Low-frequency elastomeric compression mounts for industrial machinery.
Barry Industrial Machinery Mounts are for use under heavy industrial machinery for shock, vibration and/or structure borne noise control. Barry Machinery Mounts provide efficient isolation for machine speeds as low as 750 rpm.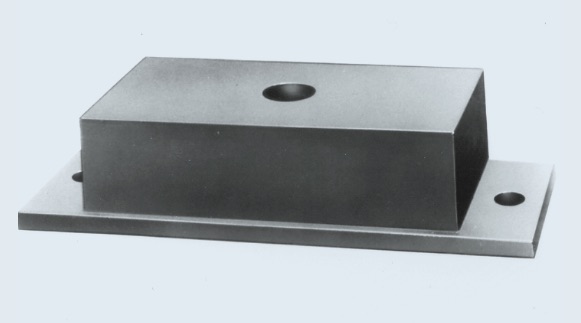 Contact us for special pricing on bulk orders over 25.
FEATURES
Ideal for heavy industrial machinery
For all types of industrial machinery
Cold-rolled steel construction
Provides efficient isolation for speeds as low as 750 rpm.
Compressive to shear stiffness of 5:1
BENEFITS
Protects industrial equipment from damage caused by extended shock, noise and vibration exposure
Extends machinery life
Wide load range available
Low maintenance
Resistant to oils, most solvents and ozone
LOAD RANGE
670 Series = 3 ratings to 1,500 lbs. per mount
297 Series = 4 ratings to 4,400 lbs. per mount
APPLICATIONS
Heavy industrial equipment, machinery and tools
Motors, pumps and generators
ENVIRONMENTAL DATA
Neoprene elastomer has an operating temperature range of -40°F to +200°F (-40°C to +93°C) and is resistant to oils, most solvents and ozone.
NATURAL FREQUENCY
8-18 Hertz
TRANSMISSIBILITY AT RESONANCE
8:1
RESILIENT ELEMENT
Neoprene
STANDARD MATERIALS
Cold Rolled Steel
WEIGHT
Series 661 = 2 lbs.
Series 670 = 2 lbs.
Series 297= 3 lbs.