An effective isolation solution for installations where instrumentation is subjected to rugged environmental conditions.
ME Series Mounts are low frequency, free standing isolators which are environmentally resistant and operate over a wide temperature range. They are for use in isolating delicate instrumentation in mobile, military or office equipment applications.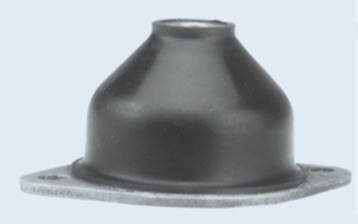 Contact us for special pricing on bulk orders over 25.
FEATURES
Compact, low-profile design
Available in two sizes
High deflection capability and compact size for light loads
Axial to radial stiffness ratio 2:1
BENEFITS
Can be used in tandem for extended deflection capability
LOAD RANGE
ME-100 = 5 load ratings to 10 lbs. per mount
ME-500 = 5 load ratings to 10 lbs. per mount
APPLICATIONS
Militarized computer installations (such as disk drives)
Vehicular mounted equipment
Avionics
Lightweight electrical equipment
ENVIRONMENTAL DATA
Operating temperature range is -20°F to +180°F (-30°C to +82°C).
Resistant to oil, most solvents and ozone.
Butyl and Barry LT available on special order where high damping and extended temperature performance characteristics are required.
NATURAL FREQUENCY
12 – 20 Hertz
TRANSMISSIBILITY AT RESONANCE
10 Max.
RESILIENT ELEMENT
Neoprene
STANDARD MATERIALS
Aluminum
WEIGHT
ME-100 = 0.2 oz.
ME-500 = 0.5 oz.