Low-frequency variable air-damped mounts for a high level of vibration isolation.
Barry S-Mounts are air-damped isolators and are designed to provide the highest degree of vibration isolation for sensitive commercial and military airborne equipment. S-Mounts are particularly effective at isolating low level vibration.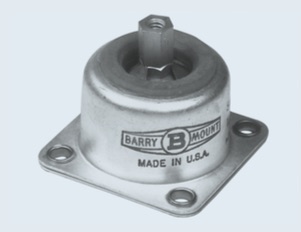 Contact us for special pricing on bulk orders over 25.
FEATURES
Low resonant transmissibility
2 stage air-damping
Low natural frequency isolation
Axial to radial stiffness ratio of 4:1
Fail safe construction
BENEFITS
Up to 90% isolation efficiency with inputs as low as 40 Hz.
Variable air-damping provides increasing isolation efficiency in high-frequency regions, even when input excursions become small
Meets safety requirements of MIL-E-5400 (30G 11ms half sine pulse)
LOAD RANGE
S22 = 6 load ratings from .3 – 3 lbs. per mount
S44 = 7 load ratings from .25 – 9 lbs. per mount
S64 = 7 load ratings from 2.0 – 25 lbs. per mount
APPLICATIONS
Military & commercial airborne equipment
Computers and storage devices
Optical devices & instrumentation
Lasers
Clinical diagnostic equipment
ENVIRONMENTAL DATA
Silicone Air Chambers and Snubbers have operating temperature ranges of -67°F to +300°F (-55°C to +150°C).
Mounts meet all applicable standards of MIL-C-172 and are fungus and oil resistant.
NATURAL FREQUENCY
7-10 Hertz vertical
TRANSMISSIBILITY AT RESONANCE
3.5 Max. at sea level Approx. 4.3 at 50,000 feet
RESILIENT ELEMENT
Air-damped spring
STANDARD MATERIALS
Varies with model
WEIGHT
S22 = 0.5 oz.
S44 = 2.5 oz.
S64 = 5.0 oz.