Small, low-profile, all-attitude elastomeric mounts for vibration and shock protection.
Barry 6300/6550 Series Mounts are designed for use either as an integral mount or isolation system for light to medium weight electronic equipment. Versions are available in Neoprene or Hi-Damp Silicone for MIL specifications.
Downloads:
6300/6550 Mounts | Performance: 6300, 6550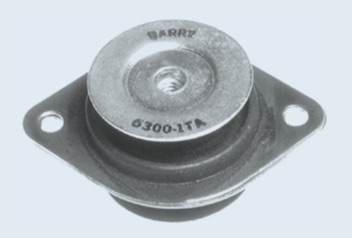 FEATURES
All attitude
Low-cost
Axial to radial stiffness of 1:1
Compact, low-profile design
BENEFITS
Compact size minimizes required mounting space
Mounting permitted at any angle
Fail-safe design captivates equipment even if elastomer is destroyed
LOAD RANGE
6300 = 4 load ratings to 11 lbs. per mount
6550 = 4 load ratings to 18 lbs. per mount
APPLICATIONS
Airborne electronics and racking
Ruggedized disk drives
Electronic chassis
Electric motors
ENVIRONMENTAL DATA
Hi-Damp Silicone is ideal for applications requiring greater damping, extreme temperature service and resistance to fungus and ozone. Operating temperature range is -67°F to +300°F (-55°C to +150°C).
Neoprene operating temperature range is -20°F to +180°F (-30°C to +83°C) and is resistant to oil and ozone.
NATURAL FREQUENCY
15 – 40 Hertz (6300)
20 – 40 Hertz (6550)
TRANSMISSIBILITY AT RESONANCE
4.0 Max. (Hi-Damp Silicone)
10.0 Max. (Neoprene)
RESILIENT ELEMENT
Hi-Damp Silicone or Neoprene
STANDARD MATERIALS
Varies with model
WEIGHT
6300 = 1.0 oz.
6550 = 1.0 oz.