Rugged, Versatile Isolator Utilizes Elastomer-In-Shear for Low Frequency Vibration and In Compression for Impact Shock.
Barry 500SL Series mounts are best suited for applications that require a low vertical natural frequency in conjunction with impact shock protection and superior structure borne noise attenuation.
Downloads:
500SL Mount | Performance: 558SL, 562SL, 566SL | Snubbing Washers | Ordering Information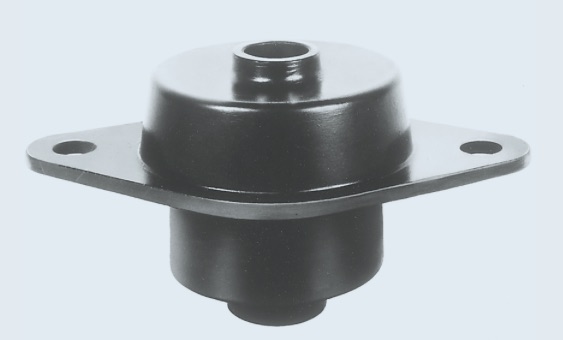 FEATURES
Fail-safe when used with snubbing washer
Axial to radial stiffness of 1:2.5
Low natural frequency
Sturdy, reliable construction
BENEFITS
Economical
Bonded construction provides constant performance characteristics
Overlapping load ranges
LOAD RANGE
558SL = 2 load ratings to 250 lbs. per mount
562SL = 2 load ratings to 520 lbs. per mount
566SL = 2 load ratings to 1,800 lbs. per mount
APPLICATIONS
Truck, bus and marine engines
Generators
HVAC equipment
Farm and construction equipment
Truck cabs
Machinery, pumps & compressors
ENVIRONMENTAL DATA
Neoprene elastomer has an operating temperature range of -20°F to +180°F (-30°C to +82°C) and is resistant to oils, most solvents and ozone.
Special elastomers and finishes are available for applications in severe environments. Please note that Silicone elastomer is not compatible with nickel plating.
| | |
| --- | --- |
| NATURAL FREQUENCY | 7-10Hertz |
| TRANSMISSIBILITY AT RESONANCE | 8:1 |
| RESILIENT ELEMENT | Neoprene |
| STANDARD MATERIALS | Cold-rolled steel |
| WEIGHT | See dimensional drawings |