Two stage shock mount and vibration isolator for severe dynamic environments such as shipboard and ground vehicles.
Barry 2K-Series mounts offer the advantage of superior vibration and shock protection for a wide range of loads in a single compact unit. These isolators are ideal for isolating naval sonar equipment, ship board electronics and communications.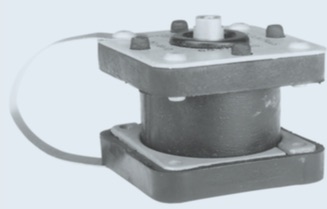 Contact us for special pricing on bulk orders over 25.
FEATURES
Combines shock and vibration isolation in a single isolator
Protects from vibratory inputs as low as 10 Hz
Designed for base mounting only
Wide load range for most applications
BENEFITS
Elastomeric shock attenuating elements have as much as 1 inch of available deflection (1.5 inches for 2KS)
Limit shock transmissions to 20g's when subjected to a five foot hammer blow per MIL-S-901
Many custom versions are available. Consult factory for more information
LOAD RANGE
2K1 Series = 4 load ratings from 1 – 10 lbs. per mount
2K2 Series = 8 load ratings from 4 – 90 lbs. per Mount
2KS Series for loads from 250 – 6,000 lbs.
APPLICATIONS
Naval sonar equipment
Shipboard electronics
Radar installations
Computer & video displays
ENVIRONMENTAL DATA
2K1 and 2K2 isolators are for use with lightweight MIL-S-901 applications.
2KS systems are for use with medium weight MIL-S-901 applications.
Isolators and systems met MIL-STD-16400 inclination, temperature, humidity and salt spray specifications, MIL-STD-167 vibration tests and MIL-M-17185 environmental and oil immersion tests.
Operating temperature range is -20°F to +180°F (-30°C to +82°C).
Isolators are unaffected by humidity, sand, dust and fungus.
Vibration Element
Shock Element
NATURAL FREQUENCY
6 – 8 Hertz vertical
15 Hertz vertical
TRANSMISSIBILITY AT RESONANCE
2.5 Max.
10 Max.
RESILIENT ELEMENT
Friction damped spring
Neoprene or Nitrile elastomer
STANDARD MATERIALS
Varies with model Standard Beryllium Copper Grounding Strap
WEIGHT
See Dimensional Drawings