All-attitude, highly damped mounts for protection of equipment from vibration, shock during steady-state acceleration. 
Barry B-Mounts provide shock and vibration isolation for avionic equipment in high performance aircraft. They feature low resonant transmissibility and isolate high frequency vibration without snubbing during high "g" maneuvers.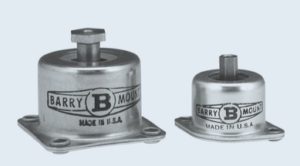 FEATURES
Low resonant transmissibility
Metal spring with friction damping
All-attitude mounting
Aluminum or stainless steel outer cup and core
Fail safe construction
Axial to radial stiffness of 1:1
BENEFITS
Continuous isolation even under loads of
up to 5g's
Interchangeable with MIL size counterparts
LOAD RANGE
B21/22 = 4 ratings to 3 lbs. per mount
B43/44 = 5 ratings to 10 lbs. per mount
B64 = 4 ratings to 40 lbs. per mount
APPLICATIONS
Avionics in High Performance Aircraft
Electronics in Transportable Shelters
Mobile ground Equipment
ENVIRONMENTAL DATA
Operating temperature range -85ºF to +250ºF (-65ºC to +120ºC).
Meets strength, corrosion resistance and environmental requirements of MIL-E-5272, MIL-E-5400 and MIL-STD-810.
| | |
| --- | --- |
| NATURAL FREQUENCY | 15 – 30 Hertz |
| TRANSMISSIBILITY AT RESONANCE | 3.0 Max. |
| RESILIENT ELEMENT | Friction damped spring |
| STANDARD MATERIALS | Varies with model |
| WEIGHT | See tables |