Vibration Mounts for Effective Isolation of Small to Medium Sized Diesel Engines.
Barry HR Series mounts are best suited for isolation of diesel engines with five or less cylinders for on or off-highway applications. The standard neoprene elastomer provides resistance to oils and most solvents. Other elastomers are available, consult factory for more information.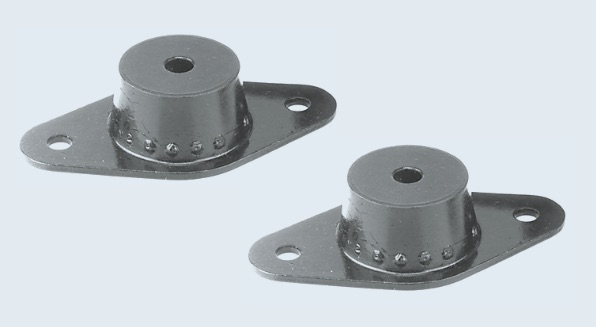 Contact us for special pricing on bulk orders over 25.
FEATURES
Wide load range
Axial to radial stiffness of 6:1
Low stiffness in roll mode
Sturdy, reliable construction
BENEFITS
Built-in rebound protection
Excellent performance even with difficult to isolate five, three, two or even single cylinder engines
Overlapping load ranges
Fail-safe when used with snubbing washer
LOAD RANGE
2 sizes and 5 stiffness from 25 – 400 lbs. per isolator
APPLICATIONS
Small to medium diesel engines
Generators
Recreational/off road Vehicles
Farm and construction equipment
Motors
Machinery, pumps & compressors
ENVIRONMENTAL DATA
Neoprene elastomer has an operating temperature range of -40°C to +93°C and is resistant to oils, most solvents and ozone.
| | |
| --- | --- |
| NATURAL FREQUENCY | 10-20Hertz |
| TRANSMISSIBILITY AT RESONANCE | 8:1 |
| RESILIENT ELEMENT | Neoprene |
| STANDARD MATERIALS | Steel and sintered metal |
| WEIGHT | 7 oz. (25453) 9 oz. (25641) |